40 percent of companies in the UK have a wellbeing strategy or plan, according to the Chartered Institute of Personnel and Development. Taking care of employees is increasingly recognised as a must for organisations in the modern age. Health benefits have been associated width increased engagement and productivity, decreased absences, lower turnover and long-term financial benefit to the company. Typically, health benefits include gym memberships, counselling or yoga classes but Executive Health Assessments are an increasingly popular choice and make a great investment for your senior employees and executives.
Executive Health Assessments screen for illnesses in their early stages, before they have chance to cause major harm to the individual or their ability to work. This will prevent disruption to your business from absences due to sickness, improve productivity and workplace culture and in turn result in bottom-line improvements for the company.
How can companies benefit from Executive Health Assessments?
Detecting hidden illnesses before they cause harm.
Reducing absences
Increasing productivity
Improving mental health
Lower turnover rate
Improved workplace culture
Helping to attract new talent
Executive health assessments save lives
Executive health benefits are a tax-deductible expense
Let's take a look at these benefits in further detail:
Executives are very valuable to the company – and may experience a lot of stress or prioritise work over their own wellbeing. The average age of a corporate executive, including senior managers, directors, chief executives and other senior employees, is 54 years, if the FTSE 100 reflects that of the whole UK. This means that executives are probably at higher risk of developing The Big Four, being cancers, heart disease, lung disease and stroke.
Reducing absences – According to the Office of National Statistics, an estimated 141.4 million working days were lost due to sickness or injury in the UK in 2018.
By taking care of senior employees and executive health, mental health will improve too, reducing mental health absences that cost UK employers £8 billion in 2017, as reported by Deloitte.  Therefore, addressing executive health issues directly will have positive effects for the everyday running of your company.
Increasing productivity – 39 percent of UK employees who responded to The 2018 Happiness Survey said they would work harder and increase their productivity if they were happy. 79 percent believe that their boss doesn't care about their happiness. Providing an Executive Health Assessment is a great way to show they are valued.
Better mental health – having their health looked after will likely lower anxiety and improve mental health, allowing executives to focus more on their job and resulting in bottom-line improvements for the company.
Lower turnover rate – when employees are well cared for, they are more likely to stay with their employer, reducing turnover.
Improved workplace culture – healthy people contribute to a healthy and positive workplace culture.
Attracting new talent – offering executive health benefits can help to recruit the best talent. According to a 2016 Aflac WorkForces Report, 72 percent of millennials are more likely to take a job with lower pay but better benefits. In particular, they are likely to consider health and wellness programmes.
Executive Health Assessments save lives – Almost half of cancers are diagnosed late, according to Cancer Research UK. A Premium Executive Health Assessment detects illness early meaning treatment is more likely to succeed.
Health Assessments are a tax-deductible expense – the provision of health assessments are considered by HMRC to be a tax-deductible expense. Additionally, a study published in the Journal of Occupational and Environmental Medicine found that when companies invest in executive health assessments and related benefits, the healthcare costs to these companies decrease.
Corporate Services for excellent executive health
A study of over 1,000 healthy middle-aged adults who received health checks revealed an average of 2.8 abnormalities per person. More than one-third of them required a follow-up with a specialist. This demonstrates the value of early detection.
By attending an Executive Health Assessment with Echelon Health, the early stages of disease will be detected for, so that if any abnormality is found it is likely be far easier to treat. In fact, our Premium Health Assessment detects for 92 percent of the diseases that lead to premature death; 96 percent in women. This will reduce the chances of unexpected illness and absences in the future.
An Executive Health Assessment includes taking a detailed medical history, ECG and blood tests and performing several medical imaging techniques including MRI, CT, EOS, Ultrasound, Mammogram and full mole screening. If anything worrisome is detected, the individual will be immediately referred to a leading specialist consultant to discuss treatment.
Additionally, the expert health advice provided will help executives to achieve excellent overall health through lifestyle changes and give them peace of mind. The company can be safe in the knowledge that their employees are receiving the right care, and that the risk of disruption to their business is reduced.
World Class Medical Imaging Technologies
When you choose Echelon Health for your Executive Health Assessments, you will benefit from state-of-the-art technologies. Based on Harley Street, London, we have access to specialist technology that is state of the art providing high  resolution and precise images.
For instance, there are only three EOS upright ultralow dose CT scanners in the UK and Echelon Health has access to one of them. These are very sophisticated and ideal for assessing spinal disease  and postural alignment. Common symptoms associated with poor spinal alignment include sciatica and lower back pain which are most common in men over 40 and therefore the average age of executives.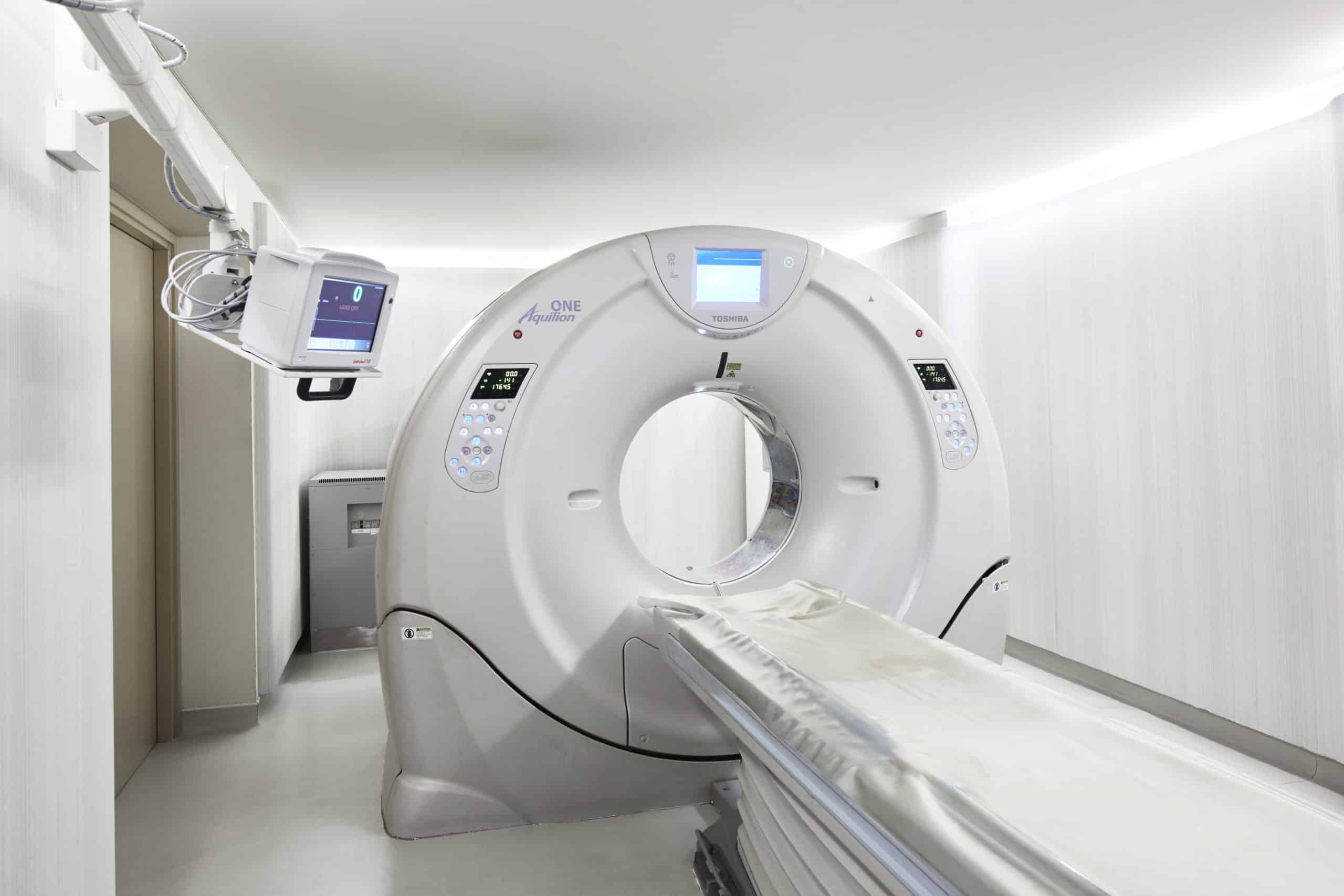 The Aquilon ONE 640 slice CT scanner has a spatial resolution of 0.3mm whilst having one of the lowest radiation exposure of any CT scanner, up to 10-fold lower than conventional CT scanners. Meanwhile the Siemens 3 Tesla MRI scanner is one of the highest quality MRI machines available today and far more powerful than the 1.5 Tesla MRI machines generally operated by the NHS. We make sure all our technology is the crème de la crème, another example is our digital mammogram which is more accurate at visualising the early signs of cancer than a regular mammogram.
Not only is the technology world-class, so too are our physicians. Our Chairman and Medical Director, Dr Paul Jenkins MA MD FRCP, is a renowned and highly experienced consultant endocrinologist, passionate about the benefits of early detection of disease and the role modern imaging can play in healthcare. You will also benefit from up to seven consultant radiologists reviewing your results, each reporting on their particular area of expertise.
Together the results of blood tests, imaging reports, ECG and other investigations , will be collated in a full health report. If any issues are raised and require a referral, Echelon Health has a comprehensive directory of some of the very best consultants and specialists in different areas of medicine.
Executive Health packages are tailored to your needs
Our experienced and professional team is available to discuss any of our services that you are interested in offering to your executives and senior employees. We will work with you to tailor the assessments to your company needs.
To find out more about our corporate health services, take a look at our Corporate Services page.
Request a call back
Sources
ONS – Sickness Absence in the UK labour market: 2018
Chartered Institute of Personnel and Development.
FTSE 100 – company executive directors' age in the UK in 2019
Furtado, C D., et al. "Whole-body CT screening: spectrum of findings and recommendations in 1192 patients." Radiology 237.2 (2005): 385-394.