Our medical imaging facilities
We work with leading providers of medical imaging services to carry out the scans that you have selected as part of your Echelon Health package. Within our Harley Street Centre is housed one of the most advanced suites of medical imaging equipment available in the world. This gives Echelon Health the unique ability to provide a comprehensive and superior health assessment, focused on optimising your health and wellbeing.
However, whereas many other clinics are tied to the machines they have bought and have to continue to use, even when medical imaging technology and best practice moves on, we are far more flexible, and utilise additional local scanners if they provide superior disease detection. We recognise that no single scanner can detect all types of disease. For instance, our partner ESC has recently transformed another of their centres just a couple of minutes' walk from our Harley Street clinic to contain a special high powered 3T MRI scanner which is perfect for undertaking the most complex of high-resolution scans. As a result, we now have access to that facility as well, ensuring we are constantly refining our service to provide our clients with the best of the best. At all times, ensuring your experience is world class is at the heart of everything we do. If we do use another facility for whatever reason, we will escort you there, wait for you and then escort you back, and in a limousine too if the weather demands it. Nothing is too much trouble for clients of Echelon Health.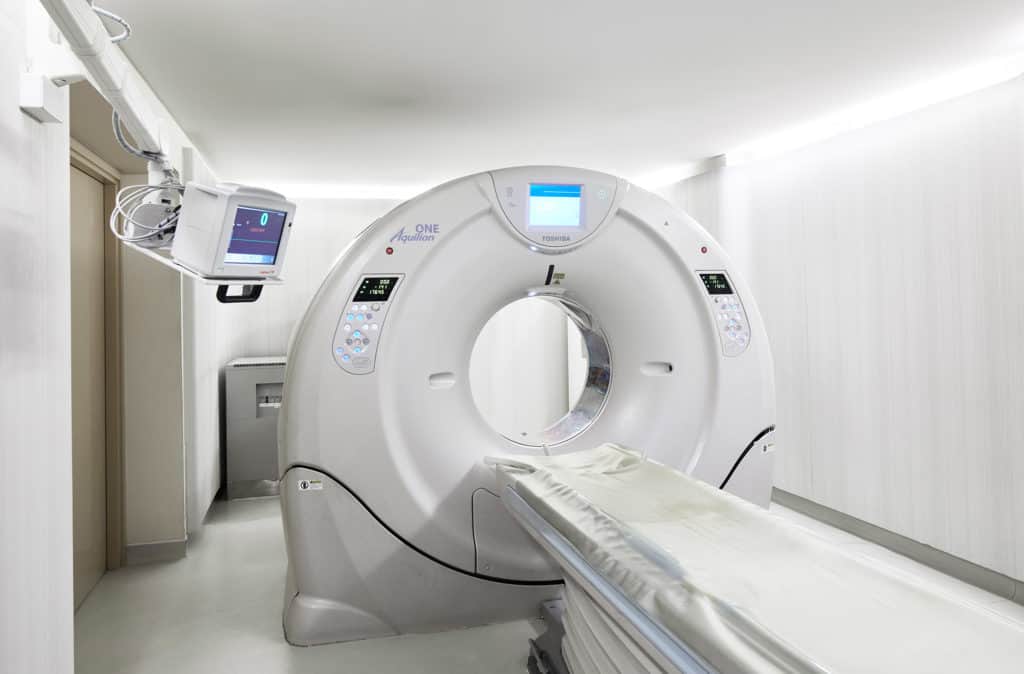 Aquilion ONE 640 slice CT scanner
CT scanners are graded according to the number of slices of the body the rotating x-ray tube can image in one rotation. Many current diagnostic imaging units, both NHS and independent, use scanners with 16-64 slice capability;
in contrast, the Aquilion ONE images 640 slices.
This allows it to scan a 16 cm volume with each rotation, covering entire organs such as the heart, brain or whole joints.
The Aquilion ONE:
Is the most advanced CT scanner currently available, being able to image 640 slices of the body with each rotation of its tube compared to 16-64 slices from most other scanners
Has the lowest radiation exposure of any CT scanner (up to 10-fold lower than other conventional CT scanners)
Avoids any sense of claustrophobia as your body moves across the detectors
Is the only scanner able to image the heart in a single rotation which greatly increases accuracy
Is able to image the vulnerable 'soft' cholesterol-rich coronary artery plaque, which is the most likely to rupture and cause a heart attack
Is the only scanner able to image the heart in patients with an irregular heart rhythm
Is the only scanner capable of real time 4D imaging of moving joints
Has the unique ability to show real-time function of organs such as blood flow
is able to visualise lung nodules as small as 1-2mm
Has an increased spatial resolution of 0.3mm vs >0.5mm for 64 slice scanners, providing increased image quality
X CLOSE